Andrew Lumish is a true hero. No, he does not wear a superhero outfit, or donate billions of dollars to charity. Instead, he donates his time and energy. Andrew works six out of seven days of the week. He is a Tampa native and the owner of a professional cleaning service. On his only day off, Lumish heads out to cemeteries where he locates veterans' tombstones and spends hours upon hours scrubbing away at them.
Lumish is 46 years old and has made it his mission in life to find decayed and dirtied headstones of military vets and clean them up. Most times, Lumish is forced to return to the same tombstone many times to clean it up completely; some headstones can even take up to four months to clean.
Until now, Lumish has estimated that he has cleaned and restored over 300 gravestones. He not only cleans them up, but he takes the extra time to learn a little more about the person who is buried in that particular location.
In an interview with CBS, Lumish explains what inspired this personal mission: "Their final resting places were total disasters…They'd been neglected from the time they'd been buried…If [people] can't read it at all, they can't celebrate it, they can't honor that person, they can't appreciate that person.
Lumish also shares most of this work on his social media accounts. In addition to photos of the gravestones, Lumish includes interesting stories and details that he was able to learn about that particular individual; this includes physical details about the individual as well as any interesting family stories or scandals that might be discovered.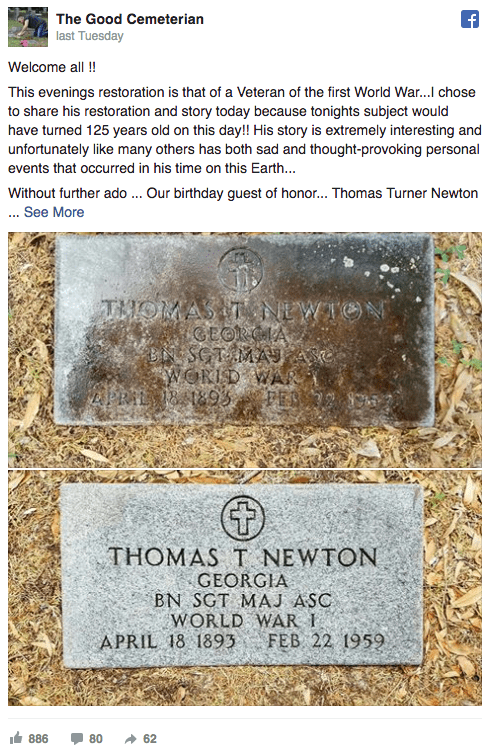 One thing is for certain, Andrew Lumish is a good man with a good mission. His actions are inspirational and encouraging. We should all learn to appreciate and respect our country's heroes the same way Andrew does.